It seems like everything was different in 2020—including Legal Lab, HBR Consulting's sixth annual gathering of leaders from some of the nation's top law departments and law firms. In place of the two-day, in-person event that HBR has hosted in the past, we reinvented Legal Lab as a series of five virtual sessions that unfolded across multiple weeks.
But, by embracing flexibility—which was one of the themes of Legal Lab 2020—we were able to pull together a range of fun new events and different formats, including breakout discussions, workshops, and a virtual beer tasting. We ended up with an inspiring sense of unity as we explored the other two themes, the importance of focusing on clients' holistic needs and the benefits of wide-ranging collaboration.
What Are the Elements of Effective Service Delivery?
One of the most interesting aspects of our service delivery discussion was a small-group brainstorming session where we asked participants to devise a mathematical formula for effective service delivery.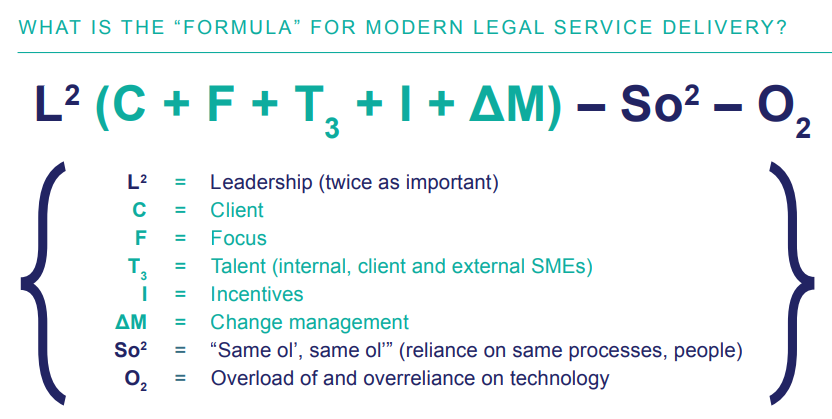 That exercise underscored the importance of building a strong foundation of leadership support, backed by reasonable incentives and adept change management, for any service delivery initiatives.
In keeping with the overarching takeaway of Legal Lab 2020, improving service delivery demands a reexamination of the status quo. The "new normal" will probably look quite different from the old normal, as offices remain closed amid ongoing social distancing efforts and support staff jobs adapt. This evolution requires that we reinvent our workplaces, redefine our roles, and reevaluate our expectations.
One key element that arose in our service delivery sessions was the importance of drilling down to truly understand our clients' business challenges. When clients turn to their lawyers with pressing legal questions, it is natural to focus narrowly on answering the presenting issue. But we do our clients a disservice if we never circle back to ask the deeper questions, particularly for recurring problems. Instead, we must take the time to understand the genesis of the situation and then creatively solve the problem. What is the true root of the problem? What actions could the client take that would fix that root cause once and for all?
This is only an excerpt of the conversations we had at Legal Lab 2020. To learn more, get your copy of the Executive Summary here—and watch for information about Legal Lab 2021, in whatever form it takes.