The Federal Reserve Bank's recent aggressive actions with raising interest rates, combined with leading indicators from both the equity and fixed-income markets, suggest that the risk of a recession this year is rising. As of January, the probability of the U.S. falling to an economic recession by December 2023 is now at 47.31%, according to the Statista Research Department.
"The U.S. could enter a mild recession by the end of [2023] as higher interest rates slow demand for goods, services and the workers to produce them," writes Ginger Chambliss, head of research for commercial banking at J.P. Morgan Chase. "The 2023 economic outlook … is being defined by decelerating growth, rapid monetary tightening and moderating inflation."
Corporate executive teams have heard these forecasts and are approaching 2023 with a renewed focus on costs. This shift in sentiment is having an impact on how corporate law departments are planning for the year ahead. They are being required to take a hard look at 2023 budgets, and 79% indicate they are facing corporate mandates for cost reductions, according to a survey conducted as part of HBR's recent Sounding Board Series of roundtables.
We hosted a webinar in December to share some of the key findings from HBR Consulting's 2022 Law Department Survey and our subsequent Sounding Boards. During the webinar, we polled the corporate law department executives in attendance. Those polling results give additional context to the Survey and Sounding Boards, shedding light on law departments' priorities and focus as they enter 2023.
Here are some of the highlights of our December poll findings:
Flat budgets.

On balance, it appears most corporate law department leaders will have to make do with roughly the same resources in 2023 as they did in 2022. One in three webinar poll respondents reported that there will be no significant change in their annual budget for 2023 compared to 2022. Similar number of execs said their budgets are either increasing by 10% or are decreasing by 10% or less. And while none reported a 2023 budget hike greater than 10%, nearly one in 10 said their budgets are being slashed by more than 10%.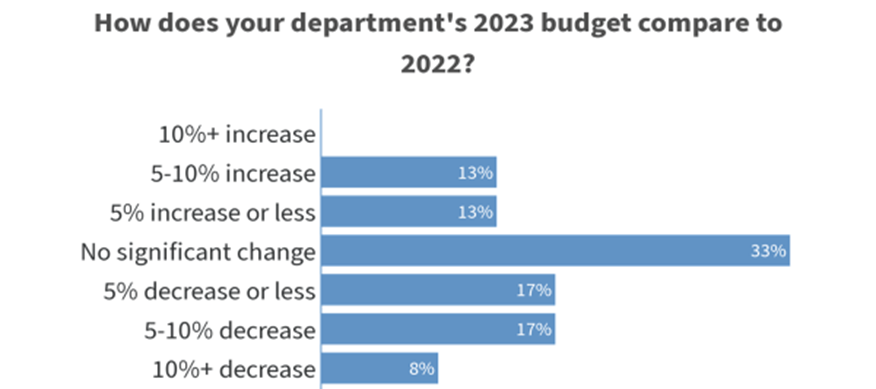 Law firm rate increases.

Meanwhile, our webinar poll respondents said they are dealing with a spike in law firm rate increases at the same time as they are being asked to hold the line on their corporate law department budgets. Six in 10 execs said they are seeing rate increase requests for 2023 of between 10%-14% and another three in 10 are seeing increases of 7%-9%. When asked how they are handling these requests from outside counsel, the most popular responses included:

As part of an annual revie

w

process

Using service benchmarks for negotiation
Rate locks
More stringent language in outside counsel guidelines
As requested/Ad hoc basis



Workflow tools are #1 tech priority.

All corporate law departments understand the value of technology as a way to increase efficiency, but individual priorities vary depending on the needs of the department. Interestingly, the clear winner as top tech priority for 2023 was to invest in tools that enhance workflows and systems, cited by 54% of the webinar poll respondents. This is consistent with the 2022 HBR Law Department Survey results collected earlier in 2022, when emerging workflow-based technologies took the lead for the first time among the tools most likely to be considered for implementation in the next one to two years. Three in 10 survey respondents were considering or planning the implementation of legal service request tools (up from 19% in 2021) and 29% expressed interest in robust workflow automation tools (up from 19%). These technologies are important because they help law departments automate routine tasks, which enable lawyers and professional staff to focus on higher-value strategic work and less on routine administrative work. Other tech implementation priorities cited in the webinar poll included:

Contract Lifecycle Management
Data Analytics
Document Management
Electronic Billing
E-Discovery
Modernizing Enterprise Legal Management (ELM) platform



Best practices initiatives.

When asked about any specific best practice initiatives they were focusing on in 2023, 29% of webinar poll respondents said they were prioritizing a data analytics/dashboard program. Data analytics and related dashboards enable law department leaders to make data-driven decisions as they navigate the constantly evolving legal landscape. Other popular responses included an outside counsel evaluation program (21%), a technology roadmap development refresh (14%), user adoption monitoring and tracking (14%), and diversity tracking and monitoring (12%). These types of strategic initiatives reflect the proactive measures that many corporate law departments are putting in place in 2023 to drive efficiency gains and obtain greater management insights by leveraging emerging tech-enabled solutions.



Overall, participants' feelings about 2023

w

ere mixed. At the outset of the

w

ebinar,

w

e asked them to summarize those feelings in one

w

ord. Responses ranged from "uncertain" and "challenged" to "confident" and "excited" — but the

w

ord that best captured the consensus mood is

cautious.



Corporate law department leaders' caution regarding the macro-economic headwinds that appear to lie ahead is translating into a renewed focus on cost management and looking more closely at corporate expenses than was anticipated earlier in 2022.
In this context, in 2023 corporate law department leaders are preparing to manage their teams and fulfill their organizational responsibilities while holding the line on budgets. This challenge requires innovative approaches to how work gets done within the department, leveraging technology solutions to the greatest extent possible, and continuing to collaborate with outside counsel in spite of the competing financial pressures.
For insights into how HBR can help your department navigate 2023 with caution, contact Kevin Clem.