This is the second post of a three-part series focused on preferred outside counsel program processes.
Companies that have already gone through the law firm rationalization process and have created preferred outside counsel programs can help ensure the long-term success of those programs by adding rigor and structure to the program. The information below highlights suggested structural components for a successful preferred outside counsel program.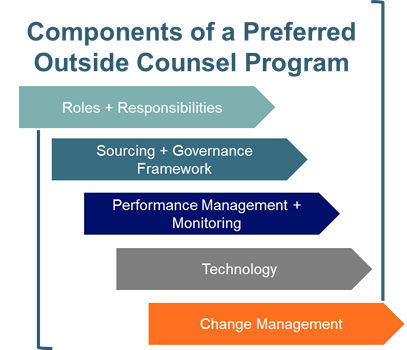 Roles + responsibilities. Clearly define roles and responsibilities at all levels, including leadership, relationship partners, legal operations, billing coordinators, etc. How the program operates and each resource's contributions to the success of the program should be clear. Defining high-level expectations for key stakeholders prior to the program's launch will help ensure a smooth transition for the law department and affected resources.
Sourcing governance + framework. Provide the law department with a framework that helps team members understand when to retain a preferred law firm for a given type of work. While some circumstances may require retaining a firm outside the program, the overall framework should include a defined exceptions process. This exceptions process should not be unnecessarily burdensome but should help to prevent "slippage" and ensure work is sent to your key firms
Performance management + monitoring. Develop a performance management program for preferred law firms to capture data and monitor the program's success. This program should identify the key metrics to track and internal feedback to collect. Create firm scorecards that include a variety of performance measures, including spend, outcomes, staffing, performance feedback and any other metrics important to your department. A good starting point is CLOC's Law Firm Performance Evaluation Survey.
Technology. Utilize matter management and data analytics technology to monitor the program, support the retention and engagement of firms, manage workflows, and collect and report firm performance. The most successful programs leverage workflows within these tools that support the engagement and retention process with information related to the preferred firms, thereby helping drive the governance framework.
Change management. Just as change management should be a key component when implementing a program, it should remain a high priority during the program's life as you focus on monitoring and maintaining the process. This will help support a successful process with lasting impact and high user adoption.
Firms that impose the rigor and structure of these pillars will be able to optimize and sustain the success of their preferred outside counsel program. To learn more about the trends of corporate law departments in managing outside counsel, please feel free to email me or one of my colleagues in HBR's Advisory business.