I had a clear message to deliver to those in attendance when I took the stage at this year's International Legal Technology Conference (ILTACON): law departments are gathering, centralizing and sharing more data than ever, and many law firms are lagging behind. During the presentation, "Data Gathering and Sharing by GCs," I was joined by Ron Katcher, director and senior corporate counsel at Qlik Technologies, and Paul Nicandri, chief service delivery officer at DLA Piper. We took a deep dive into how law departments and law firms are (or are not) using analytics, highlighted the disparities between law departments and law firms, and offered some suggestions to law firms about making better use of data analytics to bolster their relationships with clients. Here are some key takeaways from our session.
Law departments are gathering more data than ever, and they are using it to select law firms and evaluate their performance.
Law departments are collecting and analyzing data for a variety of purposes. 46 percent of respondents to HBR's 14th Annual Law Department Survey reported they had already implemented a spend analytics platform, and an additional 24 percent were planning to implement one within the next 12 months.
In addition to using data to analyze how much they spend in fees, law departments are increasingly leveraging analytics to select and evaluate outside counsel. According to the 2018 CTRL Legal Analytics Survey Report, among law departments using analytics to select outside counsel, 77 percent reported using analytics to evaluate billing rates, and 88 percent reported using analytics to evaluate outside counsel performance. Both statistics represent a sharp increase from 2016.
Law departments are sharing and standardizing information regarding law firms.
Not only are law departments gathering data about outside counsel and using it for their own purposes, they are also sharing information among themselves. AdvanceLaw's GC Thought Leaders Experiment is one such example. Because of their frustration with law firms' failure to significantly improve in certain areas despite years of client advice and reinforcement, general counsel from a variety of companies, including many major corporations, are supporting a real-time experiment in which they collect and share data on outcomes and performance on a variety of matters. The experiment aims to test which in-house practice and law firm attributes produce the strongest relationships and results. Initiated in 2017, the initial set of findings from the experiment was released this summer and additional findings are forthcoming.
Law departments are also collaborating among themselves to standardize the information they collect. One of the initiatives of the Corporate Legal Operations Consortium (CLOC) was to develop a standardized form to evaluate outside counsel across certain selected performance criteria. Law departments can use the resulting data to quantifiably compare law firms in terms of performance or compare a firm's performance data with its cost and operational performance.
Most law firms are leveraging analytics for internal use, and are not yet bringing analytics results and insights to their clients.
By contrast, most law firms are using data almost entirely for internal purposes, such as evaluating their internal spend, partner performance and staffing. DLA Piper described efforts to quantify client satisfaction, diversity and inclusion, and initiatives designed to enhance legal service delivery, but client-centric analytics initiatives are still the exception rather than the rule.
There is a big maturity disparity in how law firms and law departments are using analytics technology.
We polled our audience at ILTACON, who were mostly law firm employees, with the same question we had asked the 2018 Consero Legal Operations Forum audience, all of whom were in-house legal operations leaders. We asked them to assess the maturity of their analytics programs based on HBR's maturity model shown below. The gap was consistent with what HBR sees in our work with both law departments and law firms.
HBR Analytics Maturity Model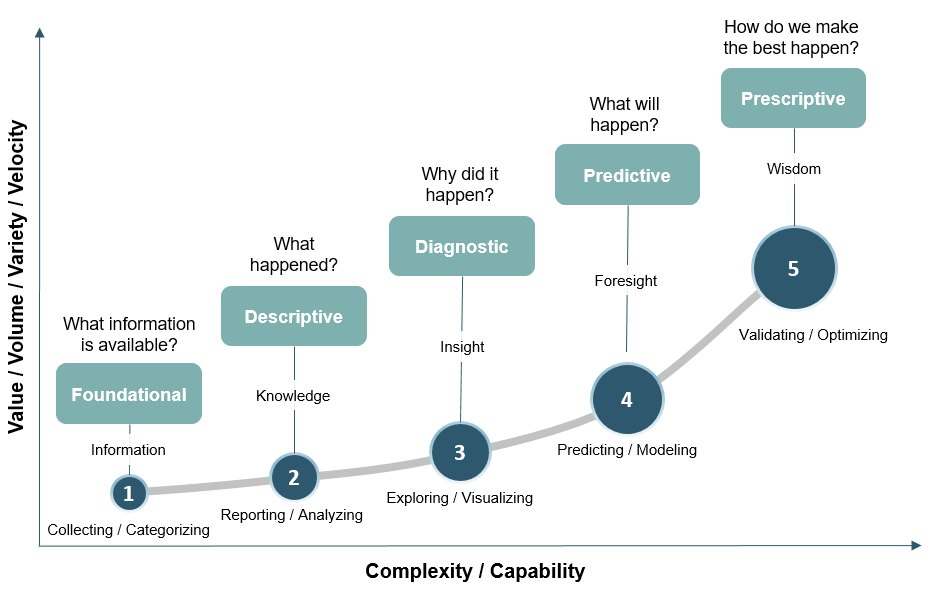 32 percent of the mostly law firm group considered their analytics programs only "foundational" (the least mature), which is nearly twice the percentage of law departments (18 percent) who deemed their programs at the least mature level. 54 percent of in-house legal operations leaders reported their analytics programs being in the "diagnostic" stage or more mature, while only 46 percent of law firms rated their programs in diagnostic or more mature categories. Clearly, law firms are trailing the law departments they work with in their use of data.
Law firms have an opportunity to use data to differentiate themselves
Clients are leveraging the data they have collected to drive decision-making, and most law firms appear to be playing catch up. In today's industry landscape, it is increasingly important for law firms to develop their analytics programs in a client-centric manner, proactively sharing information with their law department clients and identifying the types of data and analysis that will support client needs. Doing so will differentiate them from competitors by demonstrating their focus on proactively providing value to their clients.
If you are interested in learning more about how law firms and law departments can collaborate to make the best use of their data, please contact me at KClem@hbrconsulting.com. For some thoughts about the uses of data analytics in the legal landscape, check out HBR's blog post, "Analytics in Law: An Expanding Field of Play."