HBR Consulting recently hosted over 30 legal operations leaders for our CounselCommand Community Update. CounselCommand is HBR's proprietary, tech-enabled services solution that provides legal analytics to law departments looking to improve data visibility and gain better insights to make informed business decisions. CounselCommand allows law departments to gather and collectively analyze data from disparate sources to manage costs, reduce risks, and accelerate business decision making.
Attendees heard directly from three HBR CounselCommand clients. Eric Paul, Director, Legal Technology Innovation & Implementation at AT&T, kicked off the Client Spotlights, citing the challenges AT&T faced with over 100 spend management reports being prepared on a regular basis using a very manual and labor-intensive process. The first phase of the CounselCommand engagement was to streamline and enhance the production of reports via HBR's push reporting solution. Eric shared that the next phase is to introduce interactive dashboards to provide self-service opportunities for law department leadership and attorneys, and for CounselCommand to serve as the singular source of truth for AT&T legal's reporting and analytics needs.
The second spotlight was led by Mike Gottschall, Senior Manager, Legal Technology Solutions and e-Discovery at McKesson. McKesson uses CounselCommand for analysis of its historical legal spend, as well as for detailed reporting of key metrics associated with their e-discovery program. Mike explained that McKesson's goal was to provide greater visibility into the totality of its e-Discovery activity and to enable data-driven decision-making around McKesson's e-Discovery program. He also noted that the law department was looking to shift as many manual spreadsheets as possible to CounselCommand as part of the continued growth and evolution of the ways McKesson is using the service.
The final spotlight was led by Charles Wainwright, Manager, Legal Financial and Vendor Program at Autodesk. Charles described Autodesk's historical challenges with gathering accurate outside counsel spend data, especially with regard to the accruals process, which often led to over or under-reporting on outside counsel planned and confirmed spend. Through a partnership with HBR's CounselCommand solution and the Accrual Summer application developed by KP Labs, Autodesk has achieved significantly improved accuracy in its accruals reporting and a seamless experience for its key outside counsel firms. Autodesk also benefits from better visibility and consistency for the law department, as well as an enhanced experience for their law firms.
In addition to the client spotlights, HBR shared some of its recently released enhancements:
Improvements to CounselCommand's user interface with updated visuals and more streamlined navigation.




Custom role entitlements giving users a contextual dashboard with relevant data.
Automation of previously manual reporting often used by CounselCommand clients for quarterly business reviews and leadership/business updates, that can now be automatically produced via tailored PowerPoint presentations without the traditional labor-intensive effort.
Enhancements to the Matter Planning module. Members of HBR's Data Analytics and Data Science team have worked closely with the software development team to embed predictive insights based on historical matter trends. This enhanced matter planning module includes both outside counsel spend and any settlements or judgments to arrive to total resolution costs. The module can help inform a more predictable matter budget and assist with "settle versus litigate" decisions based on the totality of historical legal spend, providing enhanced models to inform better planning and prediction.
Publication of HBR's annual Law Department Survey data. With multiple years of data now available to be displayed via the CounselCommand solution, law departments can leverage HBR's industry-leading spend staffing and management trends insights directly from within CounselCommand.
The session concluded with a spotlight on an emerging area of pain for both law departments and law firms related to the management and tracking of, and compliance with, the various outside counsel guidelines that law departments share with their law firms. Through its recently released CounselGuide solution, HBR is pleased to provide an online portal to manage the full life cycle around distribution, tracking and management of outside counsel guidelines, whether they be billing guidelines, diversity expectations, IT, or security documentation, among others. In addition to the software solution, HBR's team will review and tag each of the core terms within the billing guidelines, which will streamline and make the process of reviewing and complying with guidelines much more seamless and efficient for law firms, who are often asked to comply with hundreds, if not thousands, of different guidelines from their law department clients. HBR is excited about the CounselGuide solution as it helps serve both HBR's law firm clients as well as streamlines of process that is otherwise quite arduous for its law department clients, thus serving as a solution to help both sides of the legal ecosystem that HBR serves.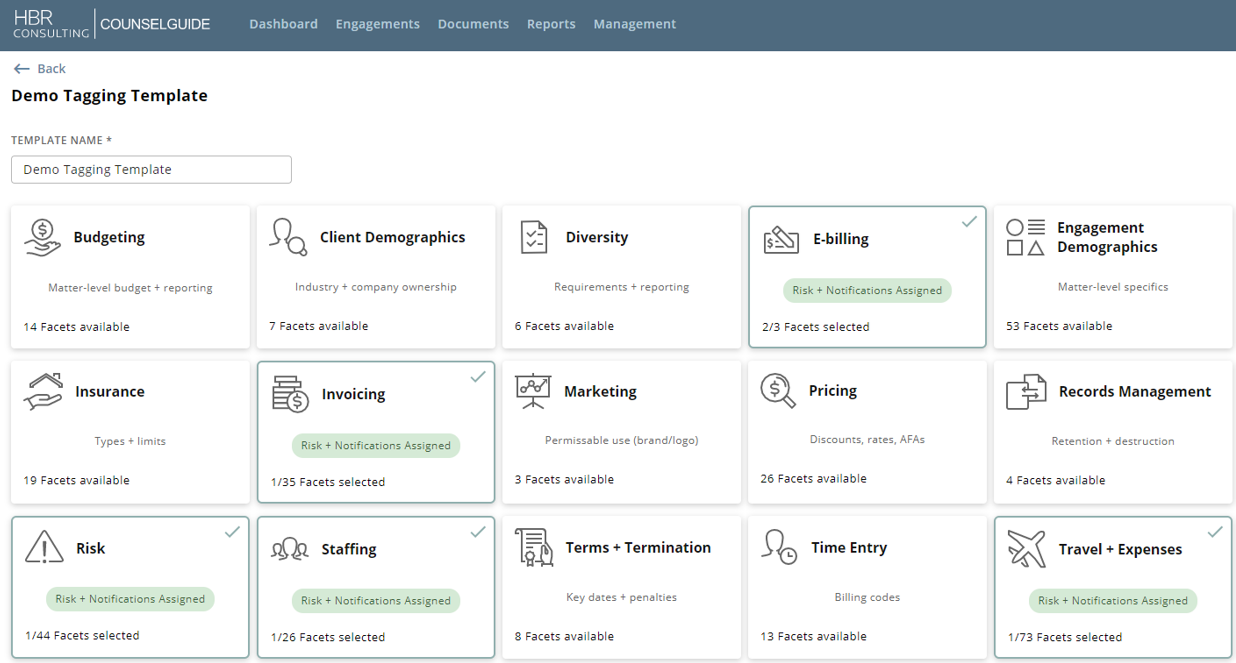 We very much enjoyed bringing the CounselCommand community together in this forum and look forward to subsequent sessions to spotlight additional client stories, successes and sharing of best practices around data and analytics.
For more information about HBR software solutions, visit or reach out to me via email.