During this time of economic uncertainty, deepening relationships has proven to be a high priority for corporations and law firms alike. In the long run, forming tighter partnerships and working through this challenge together will benefit all involved. Preferred outside counsel programs are one way to better define and strengthen relationships.
Although focusing on rationalizing the use of law firms and implementing a preferred outside counsel program can be a time-consuming process, these programs have been shown to help organizations realize significant benefits, including:
Increased partnerships with key firms
Enhanced outside counsel understanding of expectations
Reduced administrative burden from managing fewer firms
Better clarity for law department on which firms to engage
More value-added services and innovative proposals from firms
Improved fee arrangements, often accompanied by cost savings
Nevertheless, according to HBR's 2019 Law Department Survey data, only 33 percent of companies had completed or were in the process of completing a preferred outside counsel program process.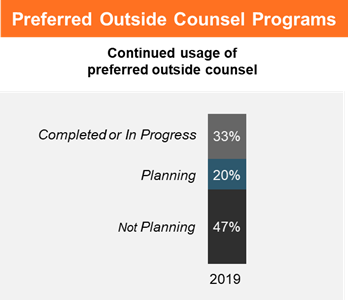 In this first of three blog posts focused on preferred outside counsel programs and processes, we offer advice to organizations that are currently planning or at some point may take on a law firm rationalization or preferred outside counsel program effort.
The next post in the series will offer those organizations (that have completed or are in the process of completing a firm rationalization or preferred outside counsel process) suggestions to help them optimize their panel, as well as outside counsel engagement approach and processes.
Finally, the third post will turn to law firms participating in preferred panel request for proposal (RFP) processes, shedding light on several common law firm misconceptions and offering tips on how to successfully respond to an RFP to participate in a preferred panel program.
Lessons for Companies Planning Preferred Outside Counsel Program
To address the full process for developing a preferred panel, we would need a much longer conversation. Here, we share several key lessons we have learned from our extensive work supporting law departments' outside counsel management programs. These lessons will help law departments focus their efforts to achieve the benefits referenced above.
Drive the program at the legal leadership level.

The most successful preferred outside counsel programs are driven from the top, with clear objectives from the general counsel or chief legal officer and attorney involvement in the process. Legal operations, corporate procurement resources, and often external experts with industry knowledge and process experience can be of great assistance in developing the program. However, it shouldn't be their mandate and initiative, but rather a process driven by the legal team.

Practice area attorneys should be deeply involved in the law firm evaluation and scoring process. Not only is their substantive input critical, but their support also drives change management and will help the process "stick" once the program launches.



Know and communicate your objectives early and often.

All aspects of the preferred program process (scoring, weighting, communications, negotiations, selection, etc.) should align with, and clearly articulate, the goals of the program. Because these objectives determine the success of the program, it is important to communicate them clearly, both internally and to participating firms. Organizations that understand and communicate their objectives from the start typically have the best outcomes.


Include as many practice areas as possible. Be sure to include as much of your external legal work in the process as possible. Not only will this inclusiveness help maximize the initiative's impact, it will also provide incentive for participating firms to offer competitive terms and better value if more potential business is involved. One narrow exception to this suggestion is for organizations with large litigation or intellectual property portfolios: they may want to conduct their process in phases by practice group and create group-specific panels.


Streamline the process. Longer does not necessarily mean better. Do not ask unnecessary questions in your RFPs that won't have an impact on your selection of firms. Consider the time and effort required of participating firms completing the requests, as well as how much time it will take your own team to score each firm's response. Using tools to automate the collection and scoring processes will help streamline the effort required of your team.
Law departments that adhere to these lessons will be able to better focus their efforts on developing programs that will identify the right firms to achieve their organizations' objectives and realize the benefits described above.
To learn more about the trends managing outside counsel and planning for your upcoming preferred outside counsel program process, please feel free to email me or one of my colleagues in HBR's Advisory business.