The Summit on Legal Innovation and Disruption (SOLID) East, held on September 13, 2018 in New York City, delivered on its promise to bring together professionals who are transforming the legal industry. The daylong event held an action-packed sprint of 14 TED Talk-style sessions spanning the full spectrum of stakeholders in the legal ecosystem. SOLID East 2018 was the third such event orchestrated by The Cowen Group and delivered in partnership with several sponsors, including HBR Consulting. Each summit has reflected the ethos of those dedicated to exploring the rate of change and innovation at the intersection of technology and the business of law in both law departments and law firms.
I had the opportunity to speak early in the day and endeavored to set the tone by highlighting select results from HBR's 14th Annual Law Department Survey. 82% of law departments report the demand for legal services has increased; however, budgets remain flat. The three-year spending trends indicate that the money spent on alternative legal service providers (ALSPs) doubled and internal spend increased, while the fees paid to outside counsel decreased by 3%. The average number of outside counsel firms has reduced (from 91 to 85). Most telling are the number of practice areas being handled in-house – from five in 2015 to 11 in 2017.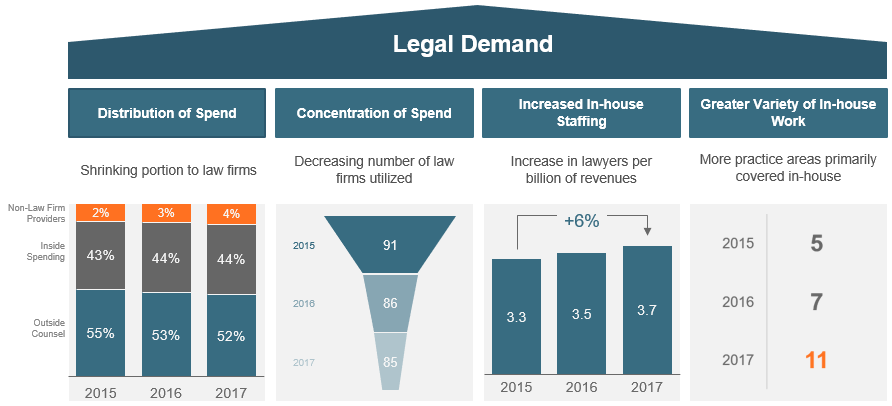 Source: HBR Consulting Law Department Survey Report

The data further supports the perspective that continuing pressures to control costs and drive efficiencies are leading some of the world's largest law departments to expand investment in enabling technologies and utilize the services of ALSPs. These trends were echoed throughout the day by numerous speakers and attendees alike and served as a de facto framework for exploring the ever-increasing collaborative dialogues between clients and their service providers.
Additional pressure is coming from outside the industry in the form of investment capital funds in businesses and technology aimed at transforming the practice of law. To wit, over $100M in funding was announced in the two weeks prior to SOLID East.
As expected, a number of key themes emerged from SOLID East 2018:
1. Macro-level market drivers have empowered legitimate, scalable threats to traditional law firms, and the Big 4 accounting firms have taken notice.
Large law firms' awareness of and ability to respond to such threats vary greatly. The majority of large firms continue to believe that there is little current reason to make significant investments in strategies intended to curb their clients' interests in exploring other options for legal work. Stephen Poor kicked off the day with his keynote discussing the Big 4 and how they are investing. "Legal departments …are under increasing pressure to demonstrate their value," he stated. He continued, "Legal operations understands process and the focus on process….and that process focus plays directly into the Big 4."
2. Buyers (i.e., law departments) are selecting legal services with a new mindset reflecting a new set of values and priorities, which are often not aligned with the traditional legal services delivery model.
Mark Smolik, General Counsel of DHL Supply Chain Americas, emphasized that "clients are not just buying results…They are looking to establish strategic partnerships with service providers who take the time to understand their goals and objectives, who bring a business approach to solving routine and complex legal challenges and who never lose sight of the hyper-competitive environment in which they operate, necessitating a value-driven approach when billing for services." Much like my comments, Mark's perspective was echoed throughout the event as speaker after speaker expanded on how the approach to winning and retaining legal work has evolved (and continues to evolve). The buy-side (clients) of the market is disproportionately driving this evolution over the past decade. To hear Stephen, Mark and I discuss our views on the market, listen to our segment of the "On the Road" podcast.
3. Innovation is not exclusively synonymous with technology.
The notion that the legal sector is primarily undergoing a technology-driven evolution has been refuted for several years now, and the faculty at SOLID East 2018 were not shy about continuing to emphasize the many other factors driving and enabling change. Process improvement, an expanded use of data, talent development and management, pricing clarity, operational improvements, etc., all play critical roles in the maturing of legal service delivery models worldwide. Deran Nevin, Senior Associate, IP Tech of Baker McKenzie, said when defining innovation in the legal sector, "I am very much of the school of thought that innovation isn't an activity, it is an outcome and it is an outcome that finds economic home in the market place." She continued, "If we understand what an innovation is, is it something that leads a buyer to buy something they never bought before. A new structure is an innovation, creates a new market."
4. Law departments are responding to market drivers with a combination of (i) internal innovation aimed at enabling efficient delivery of legal services in-house and (ii) expanding the reliance on non-traditional legal service providers.
HBR Consulting's 14th Annual Law Department Survey identified 17 discrete technology-enabled initiatives that are either in place or planned within large law departments. These include technologies aimed at providing transparency and enabling control over spend, such as legal spend analytics, legal spend real-time monitoring, electronic billing, etc. Expanding internal capabilities are evidenced by prioritized initiatives in workflow, contract management, matter management (new & upgrades) and patent management.
In addition, Jenn Warner from Columbia Sportswear Company identified 10 specific approaches her team uses to meet their legal needs, including using regional and boutique law firms and leveraging both on-demand staffing and ALSPs in appropriate situations. The simple theme she stressed was "leverage the market to meet your needs." She also spoke about law firms investing in innovation. "A lot of firms love to tell me they have a CINO, a Chief Innovation Officer, and the first question I ask when they tell me they have a CINO is 'how are they funded?' First, 'are they funded?' If they are not, you do not have one? If they are, is that funding tied to paying client projects? If it is solely tied to paying-client projects, it is going to be hard to get comfortable really experimenting. You will need a fully funded, independently funded CINO to drive your business forward."
5. Law firms are responding to the changing needs of their clients by focusing on (i) strategic acquisition of new talent (increasingly from outside of the legal sector), (ii) creation of new roles and teams, (iii) deployment of enabling technologies and (iv) implementation of processes and functions focused on creating and sustaining operational efficiencies.
It was notable that three participants, each charged with managing some form of innovation at their respective law firm, are in roles that are less than two years old (Dera Nevin, Senior Associate, IP Tech of Baker & McKenzie; Peter Geovanes, Head of Data Strategy, AI and Analytics at Winston & Strawn; and Andrew Sprogis, Chief Innovation Officer at Katten Muchin Rosenman). And, while the current talent shortage for some of these new roles was acknowledged by several speakers, Beau Mersereau, Director, Applications, Development and Support at Fish & Richardson, spoke to that firm's creative approach to assessing job candidates' aptitude for learning and problem-solving skills that are aligned with the firm's emerging requirements. You can hear Dera's, Peter's and Andrew's thoughts on how to advise law firms who are hiring innovation roles on their segment of the "On the Road" podcast.
The journey of early innovators has illuminated several key success factors, including the following:
Align initiatives to company or firm strategic goals (solving problems that matter to the people with the funding), moving forward with a carefully prioritization of efforts.

Create a safe space (and culture) to experiment (failing often, fast and with transparency).

Demonstrate value for innovative initiatives and quick wins (define success and collect metrics).

Lean on co-creation as a vehicle to capture the voice of the client to identify and respond to the right problems and to ensure relevance and value from the buyer's perspective.
As SOLID East emphasized, these factors will continue to guide the success of those transforming the legal industry.