The Summit on Legal Innovation and Disruption (SOLID) held in London on November 7 provided a view into the rate of transformation, primarily from the lens of the UK and Europe. The action-packed, daylong event included 15 TED-style talks and "fireside chats" (sans the fire), along with brainstorming sessions among the participants. SOLID London 2018 was produced by The Cowen Group in association with Baker McKenzie. HBR Consulting was one of several partnership sponsors. The aim of each Summit is to gather legal professionals for an exchange of ideas about the intersection of innovation, advanced technology and the business of law. Most of the attendees and speakers at the London forum were EMEA-based corporate counsel, providing a unique view into innovation in law departments outside the United States.
I had the opportunity to speak early in the day and endeavored to set the tone by previewing select results from HBR's 15th Annual Law Department Survey. Eighty-one percent of responding law departments report the demand for legal services has increased and their overall spending has increased as well – by five percent. This represents the first noticeable increase in legal spend in several years. The increase is equally split between internal and external spend. There has been an apparent shift in how external fees are allocated, however. According to the survey, the average number of outside counsel firms used in the United States has declined (from 91 to 71) since 2015. We are also seeing increased reliance on alternative legal service providers (ALSPs). Most telling is the increase in the number of practice areas being primarily handled in-house -- from five in 2015 to 11 in 2018. Law departments are clearly re-examining how and by whom legal services are being delivered.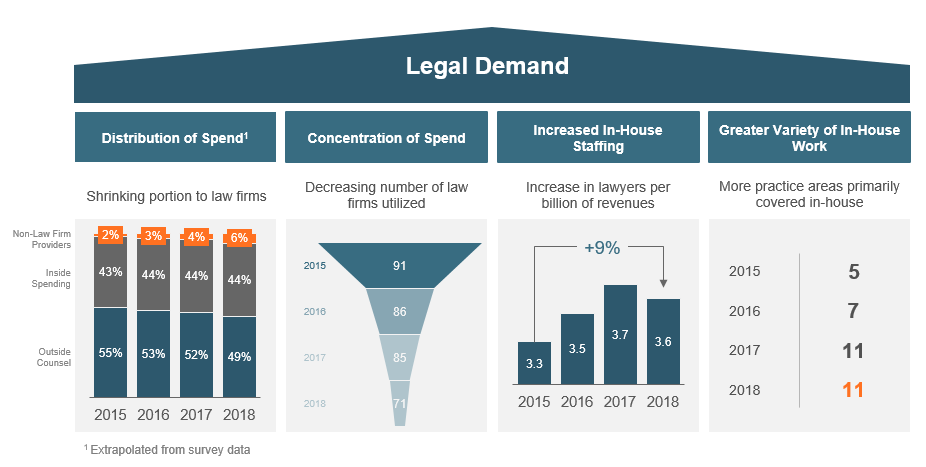 EMEA-based law departments are driving cultural change with their organizations' support, resources and mandate. Those corporate counsel are transforming how they serve the business to emphasize ease and speed. In turn, progressive law firms are evolving the de facto models of delivering legal services.

EMEA corporate counsel and their partner law firms have apparently overcome the barriers in the U.S. (real or perceived) to rethinking the delivery of legal services. Whatever the impetus for the shift – the real threat outside the U.S. from non-law firm providers (Big 4 and ALSPs), a more liberal legal environment or something else -- the variety, pace and results of the initiatives showcased at SOLID London are impressive. "After engaging with 65 UK and EU corporate counsel at SOLID London, one thing is clear to me: they are utterly eclipsing their American counterparts in embracing innovation and the talent capable of driving it. Chief Innovation Officers (CINOs) and Chief Strategy Officers on the other side of the pond have more than just the title. They have the authority, resources and mandate necessary to move the needle and make a difference. They are driving cultural change within their firm and with clients," said David Cowen, President of The Cowen Group.

Keynote presenter Simone Davina, General Counsel & Board Member at Siemens plc., eloquently summarized corporate law departments' motivation for change. "Our present business landscape of "Energy as a Service" and "Digital as a Service" requires a different model for the delivery of legal services. The business is moving at a pace that needs agile legal guidance in real time." Various corporate counsel echoed that premise throughout the day. Client engagement between law departments and business decision makers needs to be timely, agile and relatable – translated in a way that is directly applicable to the business needs. The era of taking weeks for a law department to turn around a hefty contract has passed. We are living in the world of business at the speed of email and law departments must adapt. Fortunately, they are doing so. Legal departments are no longer at the end of the business chain, they are part of it.

A few key themes emerged from SOLID London 2018:

1. Some metals are more precious than others.

Rob Booth, General Counsel & Company Secretary at The Crown Estate, shared how his department is transforming its entire portfolio of legal work. It starts by categorizing work as "gold" (high complexity) and "silver" (repeatable/medium-to-low complexity) as the first step toward driving performance. "Categorizing the matters in this way allowed us to optimize delivery – fundamentally rethinking the options for who should deliver the legal services and how they should be delivered, both now and in the future." Categorizing work resonated with the audience as a practical first step toward changing the service delivery model.

2. Low hanging fruit is still tasty.

Dominic Hornblow, Head of Legal and Procurement at AstraZeneca, identified several initiatives his department undertook to "liberate the time of lawyers so they can do more rewarding and satisfying work," As a result of the initiatives, the business was able to deliver twice as much without increased legal department assistance. The list of what Dominic defined as "low hanging fruit" included implementing DocuSign to optimize the contract signature process, on-line self-help guides for the business, videos for FAQs and templates for routine work. Dominic jokingly concluded, the fruit may be low but "it's still tasty."

3. Every picture tells a story – contracts reimagined.

Shell International Limited (Aviation / Marine) generates and transports fuel and lubricants worldwide for the aviation and maritime industries. The volume of contracts governing the legal relationship with each entity involved in generating, transporting and using Shell's products is staggering. Adam Khan, Global Legal Lead for Shell's global Aviation and Marine Lubricants business, shared its journey to simplify the contracting process in response to pleas from client stakeholders to "make the contracting process faster and easier!" Reengineering the contract lifecycle process is commonplace – introducing pictures within contracts is not. Adam and team reimagined contracts from the user's perspective. They incorporated visual elements within the contracts to illustrate key provisions alongside the "legalese." This brilliant innovation achieved its objectives of making the contract process faster and easier, and has won two awards.

4. Culture eats innovation for breakfast.

The human element involved in transforming the delivery of legal services – investing in culture and positioning people for success – was a common theme throughout the summit. For example, the law department at Vodafone Global Enterprise had undergone a period of intense challenges. Kerry Phillip, Legal Director, described the department's much-needed transformation. What can you do when the people with the knowledge to fix the problems are too busy? Kerry's solution: pause, empower, prioritize, focus, measure, communicate and celebrate successes. Kerry colorfully described her version of empowerment as "own the moan."

Stephen Albrecht, General Counsel of Operations and Services at Barclays, also emphasized the need to focus on people – specifically, how they work. While his team's initial efforts targeted technology (e.g., pilots of artificial intelligence tools and workflow systems), Stephen realized that the real investment and priority should be understanding "the what and how lawyers work," by mapping processes and data flow before considering technology as a solution. Additionally, the individuals responsible for enabling innovation and technology need to be organizationally close to the people performing the work. For example, the Head of Law Technology at Barclays reports up within the Legal team, rather than through the traditional IT organization, so that innovation stays close to the end users.

Several speakers acknowledged the current talent shortage for some new positions. Identifying candidates for new roles is tricky when the job does not exist in the marketplace. Beau Mersereau, Director, Applications, Development and Support at Fish & Richardson, spoke about the firm's creative approach to assessing job candidates' aptitude for learning and problem-solving skills to meet the firm's emerging requirements. Purpose-developed technology reveals candidates who might otherwise be overlooked.

Ben Allgrove, Global R&D Partner at Baker McKenzie, one of the largest global law firms, presented an update on the firm's innovation program, focusing in part on where they had failed. According to Ben, the Baker program started with the mantra of making people, and especially management, uncomfortable -- showing how the market is moving and hoping to inspire people to jump in by seeing others do. However, as the program has evolved, the team is pivoting to make it more comfortable for people to reach out and ask for help, coupled with a heightened level of opportunity identification and coaching from the central R&D team. For example, the team recently hosted a five-day "innovation bar" at the firm's recent Annual Partners meeting (think Genius Bar in an Apple Store). The result? Over 300 meetings between partners and the team's "innovation ambassadors" talking in concrete terms about new ways of working. Ben says, "the level of penetration we were able to achieve was beyond our expectations. The hunger for help was there, we just needed to find a way to make it safe (and fun) for A-type personalities to ask for it."

5. Law departments are not waiting for law firms to transform.

It is telling that 65 corporate counsel dedicated an entire day to collaborate about innovation and disruption in the legal industry. That is a strong signal that law departments are not sitting on their laurels waiting for law firms to provide solutions to the legal services delivery model.

A good example is an innovation shared by Elizabeth Planell, Assistant General Counsel – GlaxoSmithKline. The internal trademark team at GSK implemented an AI-enabled chatbot to respond to frequently asked trademark questions. The chatbot freed up in-house counsel time to handle substantive work without needing to send work outside.

In some ways, SOLID London 2018 was like a rapid tour of one of London's fine museums – exhibitions of precious metals, still lifes and illustrations by a Dutch master, all overlaid with a lot of culture. There were masterpieces worthy of study and inspiring our own creativity. Here are a few of our takeaways:

Understanding the types of legal work performed (and who's currently doing the work) is the first step to reconsidering alternative allocation
It is okay to start small -- a portfolio of little wins can justify hiring people focused on transformational efforts (define success and collect metrics)
Invest in people and culture by involving, communicating, empowering and retaining skilled people
Corporate counsel are eager to work with law firms to collaborate and co-create new ways of delivering legal services but are not standing still
Innovation is not solely about the technology – but undoubtedly some cool solutions are being deployed by law department, law firms and tech providers!
Pablo Picasso reportedly said, "Everything you can imagine is real." Participants at SOLID London had the opportunity to learn from the masters and are hopefully now inspired to imagine and create their own real transformation.